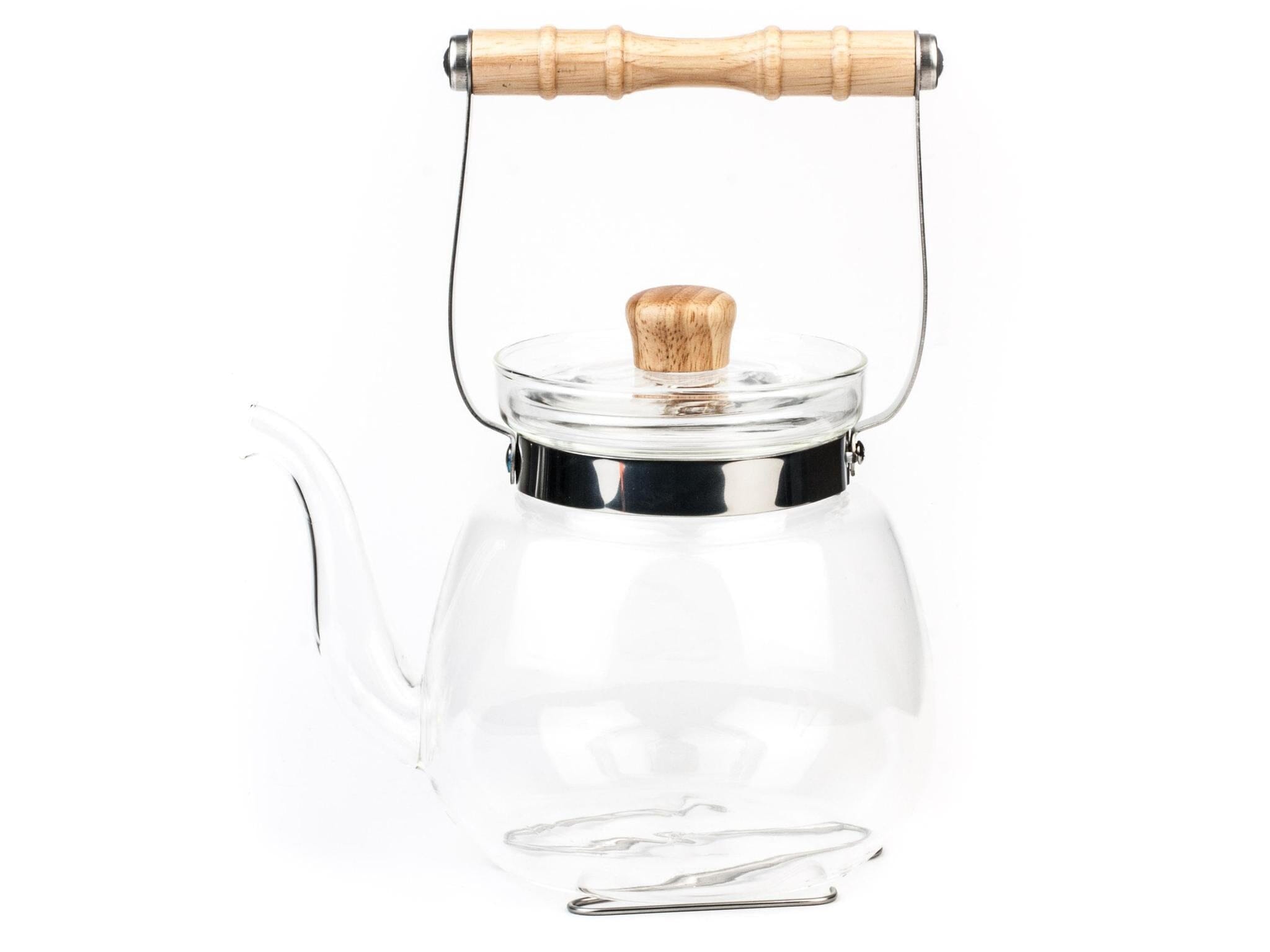 Glass Kettle with Bamboo Handle - 1.2L
Description
This elegant glass kettle is an affordable upgrade from plastic or electric countertop kettles. Glass imparts no unwanted flavors or odors onto the water, allowing your tea to shine. Glass kettles are excellent for experimenting with
Boiled Tea
, as they are easily washable and won't retain the flavor of the tea through future uses.
However, please note that glass kettles require special care. 
Carefully follow the instructions below to avoid damaging your kettle: 
For use on gas stovetops and alcohol lamps: Keep the flame low at all times, smaller than the base of the kettle. 
For use on electric stovetops and infrared burners: place the included wire trivet in between the kettle and your cooktop surface to diffuse the heat and protect the kettle. 
Avoid abrupt temperature changes: Do not place very cold water into the kettle while it is boiling hot. Do not place a hot kettle directly onto a cold surface, such as a cold stone countertop.
Do not let the kettle boil completely dry, as heating an empty glass kettle will cause it to crack or burst. 
Includes: 1.2L glass kettle and wire trivet.
Glass Kettle with Bamboo Handle - 1.2L
Frequently Asked Questions
When does my order ship?
Our Chicago-based distribution center ships 3 days per week. Expect your order to ship within 1-3 business days, at which time you will receive automated tracking updates via email.
What is your returns & exchanges policy?
What comes in my shipment?
Your order is carefully packed to ensure safe transportation of your tea and teaware. General brewing instructions are also included to help you make the most delicious cup of tea! Seed-Propagation Room To Grow BioDiveristy Chemical-Free Healthy Relationships Among All Involved No Artificial Irrigation