Canadian born, Australian raised, then back across hemispheres again; a life full of travelling, changes, instability, and different perspectives led to seeking a path of wellness to generate equilibrium - any time, anywhere. As a creative storyteller with a tender heart, she can most frequently be found filming, drawing, alchemizing, dancing barefoot, drinking tea, and studying plant allies.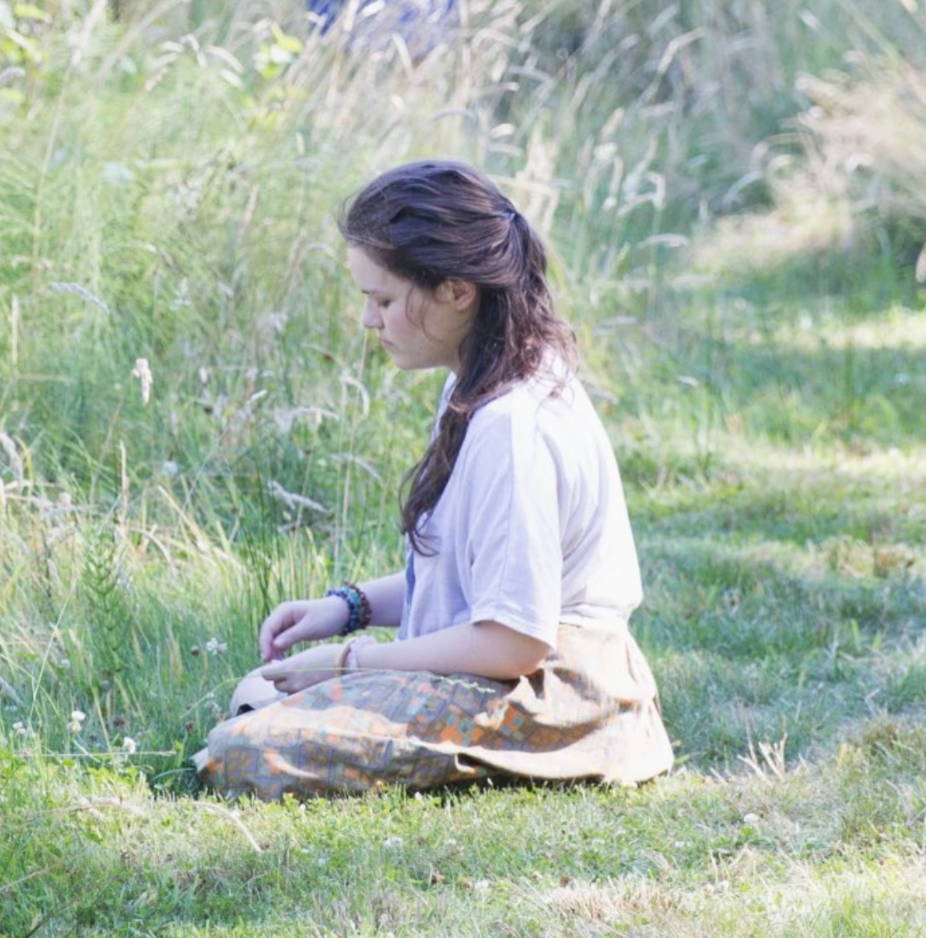 Describe your practice and/or why mindfulness is important to you.
My meditation practice unfolds uniquely each day, guided by intuition and seasonal shifts. Most often it will manifest in a tea ceremony, with at least three bowls served in serene silence at the beginning of the day. On other occasions I may meditate assisted by immersive pranayama exercises, sound frequencies, or forest bathing. Opportunities to expand upon this active consciousness will arise throughout the day, usually to imbue busy moments with a pause for love and gratitude, such as using the same energy to consciously prepare nourishment for myself - upon my own meals - as I would unto a loved one's.
Mindfulness rituals cultivate a relationship of alignment amongst all living beings. By embodying existence in a carefully crafted way, illusions and inauthentic accessory can melt away. The present moment can be truly observed, felt, and treasured. Grounding meditation rituals anchor my days just as roots nourish their leaves. The peaceful energy summoned extends beyond myself; a subtle energy imprint which resonates forth to weave a softer tune amongst the rumbling vibration of the world.

What is your highest value and why?
Patience - a reminder to slow down, listen, and surrender to alternative directions.
Gentleness - the empowerment found in reverent receptivity; to breathe and rekindle one's softness.
Respect - we are all connected and each deserves the opportunity to be seen and understood.

Describe one health practice that is non-negotiable for you each day
Water. Engagement with quality water deeply nourishes my cells - whether that be through drinking it, harvesting spring water, hiking alongside a river, bathing, or dancing in the rain. This element definitely occupies the most influential and powerful presence in my life, from changing the way a bowl of tea tastes to allowing gardens to grow. I feel very grateful to have daily access to both local and wild sources of water. Also cloudless days of pure sunshine always make me smile.

Describe one tradition that you connect with regularly and why?
Energetically: connecting to the Earth through maintaining a relationship to the seasons through the wheel of the year, observation of lunar phases, and honouring biodynamic rhythms. Devoted offerings to the health of our beautiful home planet's environment have always felt in alignment for me and are built upon a foundation of care, protection, and responsibility for the ripple effects of our choices.
Physically: Buddhism traditions, zen practice, and continuing to be a student of the Leaf through cultivating a tea practice which honours the appropriate lineages. I have also been interested in learning more about the ancestral foods and activities partaken within my family tree.

What's the most common method you use for tea preparation and what are you excited to learn more about?
Side handle brewing is the method I practice the most at home and with friends. Leaves in a bowl is my favourite to enjoy outdoors so that I may admire the reflections of nature intermingling with the leaves dancing in my cup. I am the least familiar with gongfu brewing and have only witnessed it being served. I look forward to understanding more about it beyond the aesthetic differences.

My favourite Living Teas (at the moment) are Forest Floor, Gateway of Spirit, First Light, and Panacea.

Describe one way that you support your community and what would help you to support others more effectively
As a filmmaker, herbalist, and artist of many mediums I delight in being able to experience and learn new forms of collaboration. Modern times inspire me to show up in my community virtually, offering therapeutic art sessions as a tangible expression and active extension of meditating with tea. Being able to freely release one's imagination through drawing or writing poetry about beloved dreams, landscapes, and/or companionship scenes not currently available can help soothe a restless soul. Additionally, heartfelt and intentional release often gives others the permission to do or feel the same.
Being able to hold safe space for visionary exploration, vulnerability, healing, and manifestation has always been magical to witness unfold. Creatively engaging with others long-distance makes the internet's vastness feel more like a supportive mycelium network, keeping the communal forest above vibrant and growing - one "tree" at a time. Energetic connection through encouragement and presence is the most helpful medicine for these times, and keeps my cup feeling at its fullest until we may meet face-to-face once more.